The FQ50 is a compact handheld thermal-image spotter from the Falcon series by Hikmicro.
This compact and easy-to-use handheld is very suitable for detecting, observing and identifying game animals, vermin and poultry.
The FQ50 is fitted in a sturdy magnesium housing and is equipped with cleverly placed buttons that can easily be operated by touch by both left and right-handed users.
With a waterproof rating of IP67, this is perfect piece of kit for the outdoors.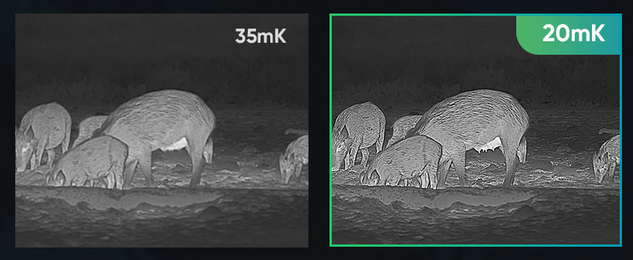 Sensor
The Falcon FQ50 is equipped with a highly sensitive thermal image sensor that uses an aspherical germanium lens.
This lens captures a large amount of infrared radiation and provides a detection range of 1800 meters.
The 12 µm 640×512 thermal imaging module has a NETD value of <20mK (the lower, the better).
This sensor provides a detailed and high-contrast image.
In addition, the Image Pro algorithm ensures that you can distinguish objects and backgrounds even better by making the edges more visible.
Display and Zoom
The thermal images are displayed on a HD OLED color display in a resolution of 1024x768.
You can choose between four color schemes: Black Hot, White Hot, Red Hot and Fusion (Ironbow).
The Falcon has an image refresh rate of 50Hz. This provides a smooth image that allows the user to "scan" with ease.
The FQ50 has an optical magnification of 2.6x as standard. Digitally, the Falcon can enlarge this image in steps of 1x, 2x, 4x and 8x.
This gives a maximum zoom of 20.8x.
Photo & Video
Inside the Falcon there is 64GB of internal memory. This is enough for hours of videos and thousands of photos.
Hikmicro has also created the HikMicro Sight app for Android and iOS that allows a smartphone or tablet to be connected to the Falcon's WIFI module for live viewing, taking photos and videos, sharing files on social media, remote control and updating of firmware.
Battery
The Falcon uses an 18650 battery. This is easy to replace (no screws) and provides 5 hours of continuous use.
To top it all off, the Falcon comes with 2 of these batteries!
The Falcon has a standby mode. You switch this on by briefly pressing the off button.
In this mode, power consumption is reduced, but the sensor remains active and ready.
The Falcon has a USB-C port for charging, transferring files and connecting a power bank.
The Falcon FQ50
TL;DR:
Are you looking for a good thermal image spotter for hunting, S&R, photography or pest control?
The FQ50 is a powerful tool that offers everything you could need.
| | |
| --- | --- |
| Sensor/lens: | 12μm 640×512 VOx Uncooled Focal Plane Arrays |
| Refresh rate: | 50 Hz |
| NETD value (mk): | <20 |
| FOV: | 8.75°×7° | 15.3m×12.2m @ 100m |
| Magnification: | 2.6x optical & digital up to 20.8x |
| Focus: | Ocular & objective adjustable |
| Detection range: | 2600m |
| Color modes: | White-hot, Black-hot, Red-hot, Fusion (ironbow) |
| Size: | 203mm × 78 mm × 67.8 mm |
| Weight: | 586 gram |
| Memory: | 64GB |
| Waterproof: | IP67 |
| Accessories: | 2x 18650 Battery, Case, Charger, Lens cloth, Neck cord, Pouch, USB cable, Wristband |