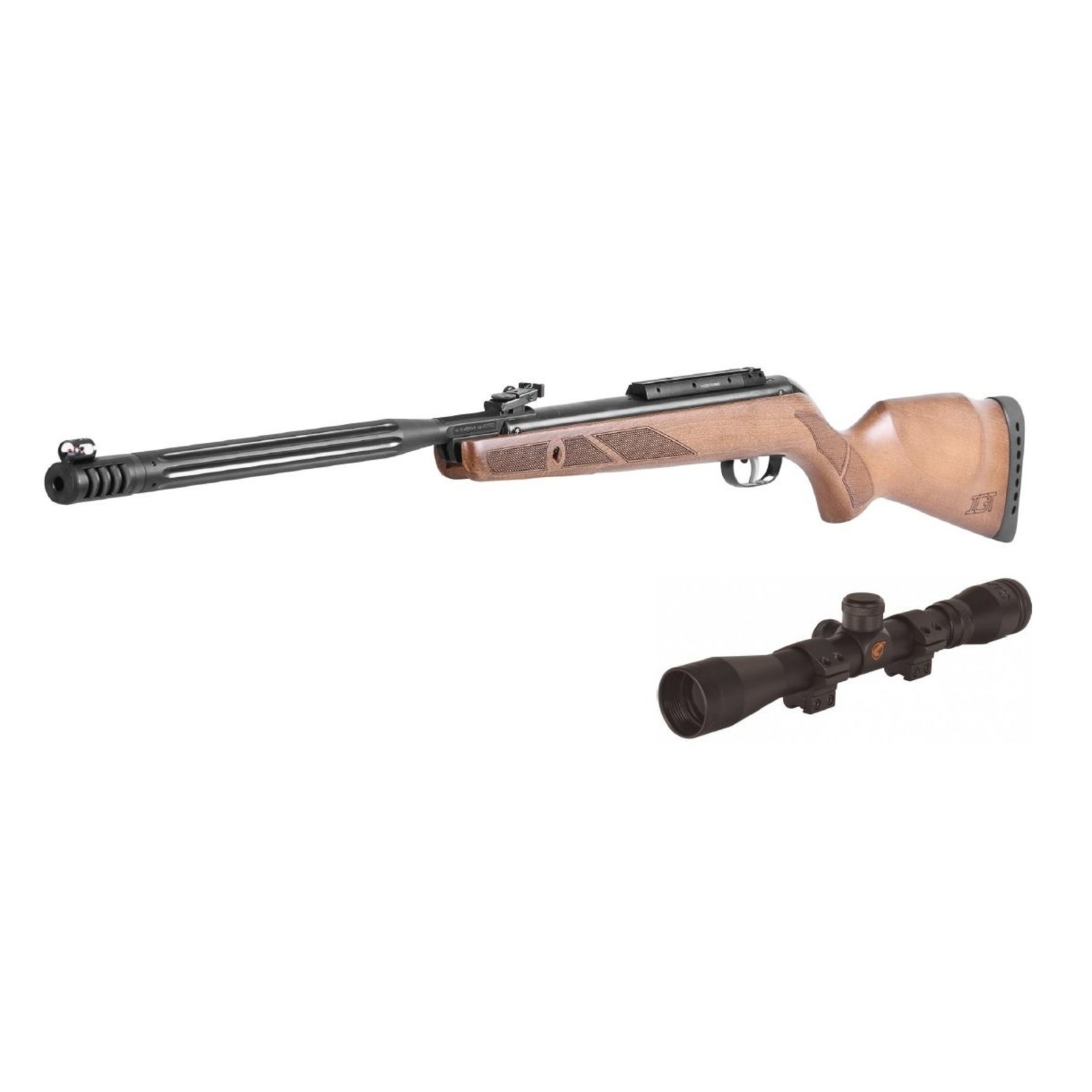 The Gamo Hunter Maxxim is equipped with a number of luxurious features, but retains the classic appearance thanks to the beautiful wooden stock.
4x32 scope included!
This rifle comes with a 4x32 rifle scope + mounting rings.
These rings are equipped with a stop-pin which fits into a hole in the rifle to prevent shifting.
Recoil Reducing Rail (RRR)
To extend the life of the scope, the Hunter Maxxim is equipped with recoil reducing rails.
This has an intermediate piece to reduce the vibrations of the shot for the scope.
Maxxim barrel
Striking about this rifle is the Maxxim barrel.
This barrel has a synthetic shroud with a built-in modertator which reduces the muzzle noise.
A nice touch to this jacket is that it protects the barrel from the acids and grease on the shooter's hands (which causes rust).
This means you don't have to wipe down the barrel with Ballistol all the time.
IGT Gasram
What makes this rifle very interesting is the IGT gas spring.
Unlike the normal coil spring, this one coicks and shoots significantly more smoothly.
Also, gasram rifles are usually less hold-sensitive for precision.
Which makes this very interesting for beginning shooters
| | |
| --- | --- |
| Power source: | IGT Gas piston |
| Caliber: | 4.5mm (.177) |
| Muzzle energy: | 24 joules |
| Magazine: | Single shot |
| Operating system: | Break barrel |
| Trigger: | CAT trigger |
| Optics mounting: | 11mm dovetail |
| Barrel length: | |
| Total length: | 1210mm |
| Weight: | |
| Muzzle: | Non threaded |
| Extra: | |
| Accessories: | |