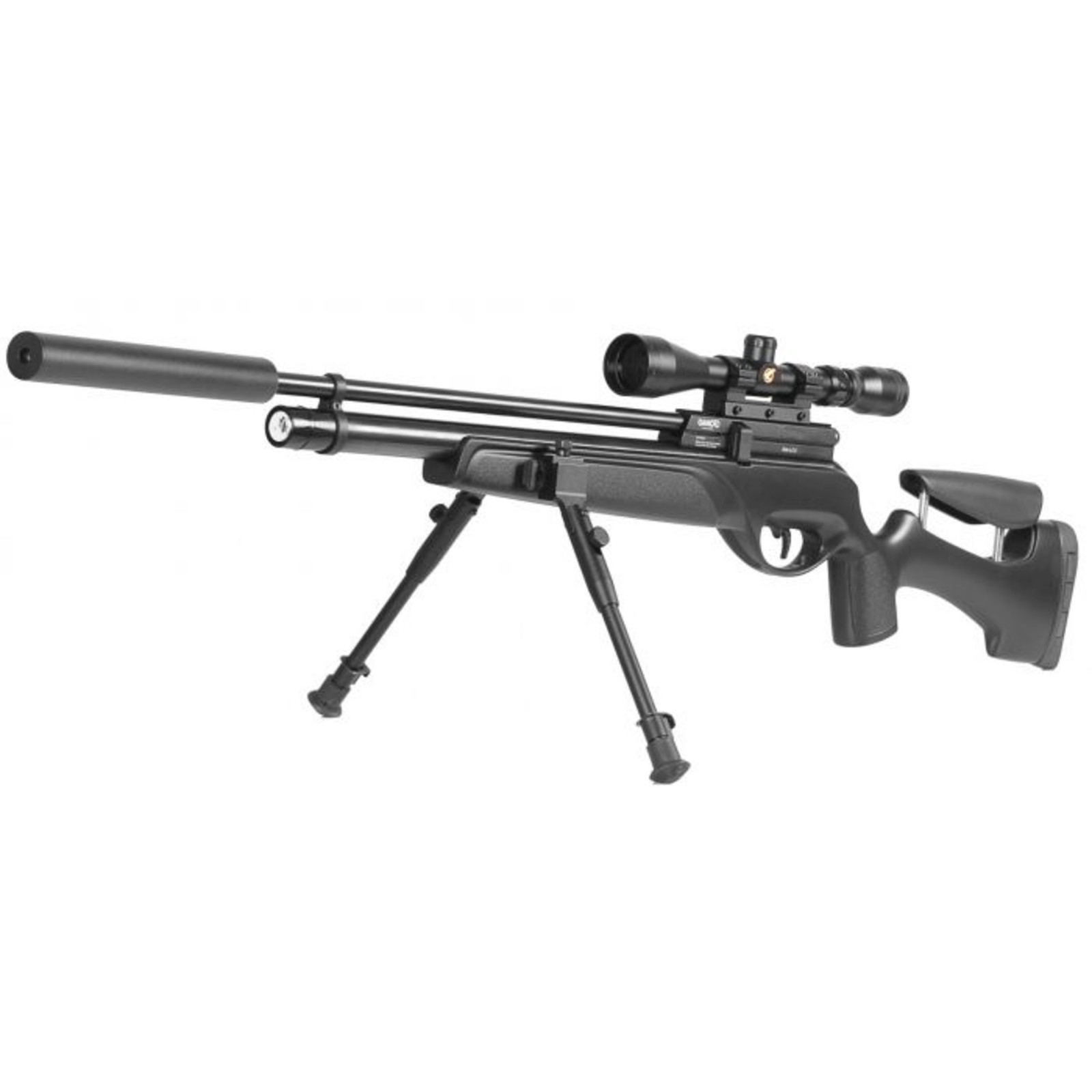 Based on the proven Gamo Coyote rifle but in tactical stock with bipod, the HPA Tactical PCP provides a powerful and accurate shooting rifle.
Thank to the included moderator, the noise is reduced significantly.
The barrel is an engineering feat, built using a cold-forged hammering process. This allows the rifle to deliver shots with admirable precision.
The HPA Tactical features a black, ambidextrous, synthetic stock with an adjustable cheek piece, making it highly ergonomic and light weight.
The fixed, pre-compressed air reservoir is integrated into the rifle, and at the end of the reservoir there's a gauge showing the level of air remaining.

Note: the optional pump is equipped with a foster quick connect. This needs to be removed in order to install the Gamo fill probe.
What we recommend, is using a foster-male adapter to quickly switch to other probes or to storage the probe in a safe pocket.
Before we can ship an air rifle or air pistol , we will need a valid copy of your id as proof that you are 18 years or older .You can email this copy to [email protected] .
Always pay attention to the existing regulations of gun laws in your country.
| | |
| --- | --- |
| Power source: | Pre compressed pneumatic (PCP) |
| Caliber: | 5.5mm (.22) |
| Muzzle energy: | 40 joules |
| Fill pressure: | 232bar |
| Air capacity: | 153cc |
| Regulator: | No |
| Operating system: | Bolt-action |
| Magazine: | 10 shots |
| Max. projectile length: | 10mm |
| Optic mounting: | 11mm dovetail |
| Weight: | 3.7kg |
| Length: | 1130mm |
| Barrel length: | 470mm |
| Muzzle: | threaded 1/2UNF |
| Accessories: | Bipod, moderator |