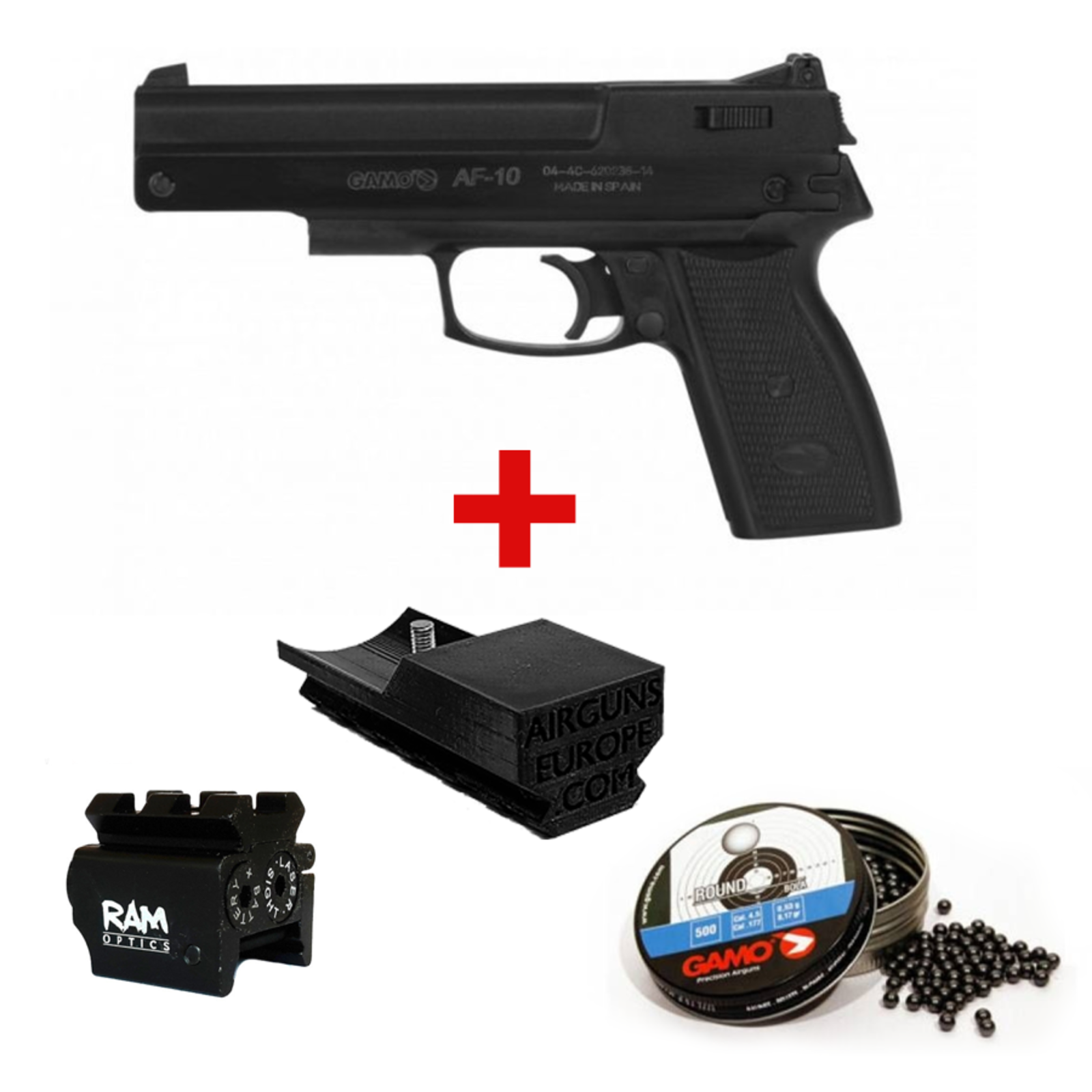 | | |
| --- | --- |
| Availability: | Out of stock |
The Gamo AF-10
The Gamo AF10 is a very accurate single-stroke pneumatic (SSP) pistol in 4.5mm.
In addition, the nice thing about this pistol is that it has a slide that fits 10 4.5mm round bullets, so that you only have to pump for each shot.
This gun comes with a case and a box of gamo wadcutter pellets (not suitable for magazine).
Tactical Set
In this Tactical you will receive a 22mm rails and a suitable RAM 011 tactical laser in addition to the pistol.
Thanks to this laser you will be on target faster.
This rail also gives the possibility to mount other accessories in the future.
This set also comes with a tin of 500 4.5mm Gamo Round bullets.
These are suitable for the internal magazine of the Gamo AF-10
| | |
| --- | --- |
| Power source: | Single stroke pneumatic (SSP) |
| Caliber: | 4.5mm (.177) |
| Muzzle energy: | 3 joule |
| Magazine: | 10 shots (round ammunition only) |
| Operating system: | Top-break pump |
| Trigger: | Single stage |
| Optics mounting: | no |
| Barrel length: | 175mm |
| Total length: | 210mm |
| Weight: | 550 gram |
| Muzzle: | No threaded |
| Extra: | |
| Accessories: | Pistol case, wadcutter pellets, Round pellets, Accessorie rail, laser |