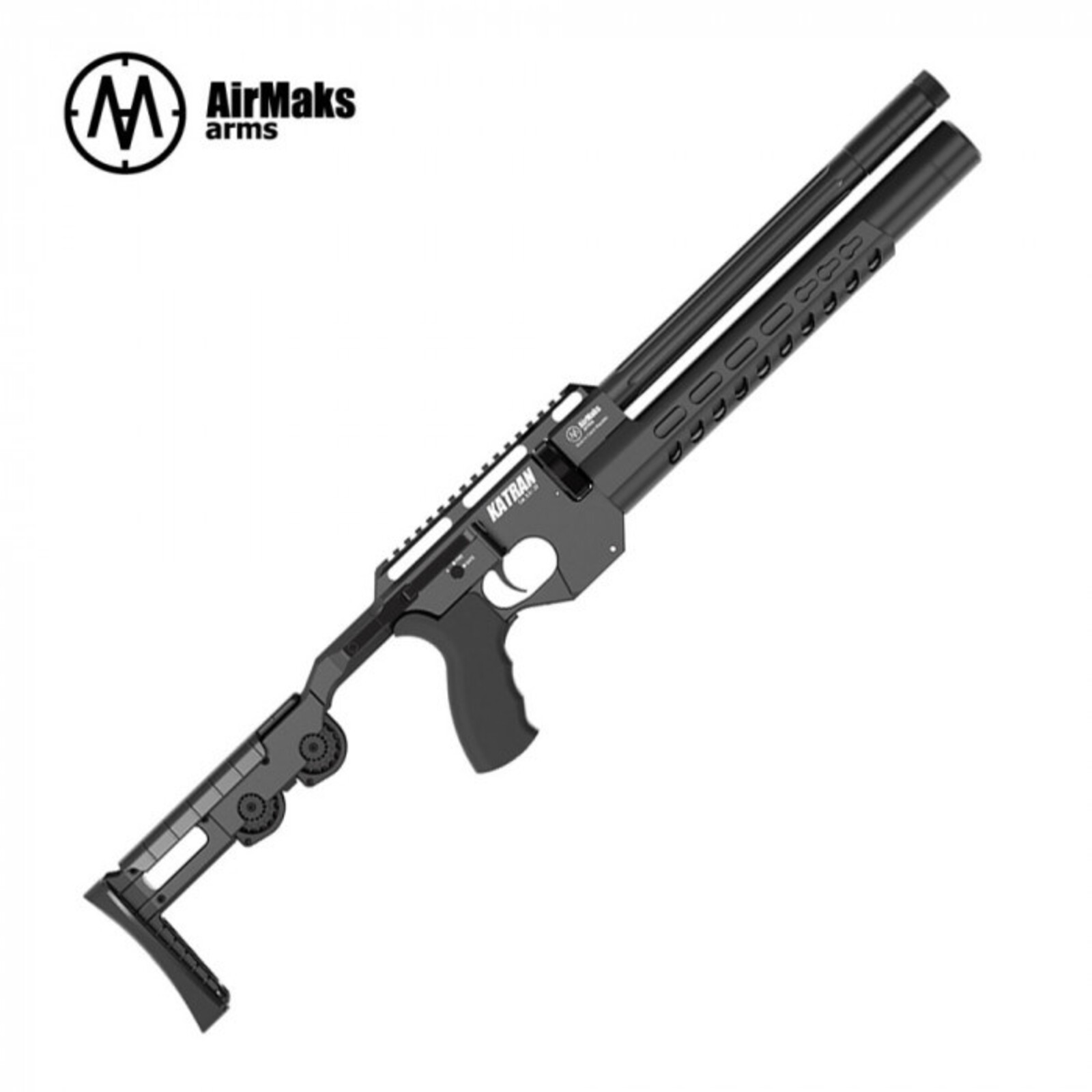 | | |
| --- | --- |
| Article number: | KatranCCylinder |
| Availability: | In stock |
With a length of 775mm, the Katran C is the most compact variant of the Katran series.
Thanks to the folding stock, it can be folded down to 530mm, which makes this rifle very easy to transport.
This version is equipped with a cylinder with a fill pressure of 300 bar.
In the heart of the rifle is a regulator that lowers this pressure so that the Katran uses the same pressure for every shot. Combined with the high-quality barrel, the result is a powerful and very accurate compressed air rifle.
Around the barrel is a shroud that protects it.
A small silencer is incorporated in the end of this jacket, which can be expanded with an extra silencer using 1/2UNF threads.
The Katran C is a very ergonomic rifle thanks to the great adjustability:
The cheek piece is adjustable in height
The shoulder pad is adjustable in length and height and is equipped with recoil damping rubber
The comfortable rubberized grip is interchangeable with standard AR-15 grips.
Around the front grip are KeyMod slots for mounting accessories such as grips, bipods, lights, etc.
In the adjustable stock there are also 2 compartments for extra magazines!
In short, the Katran C is a well-finished rifle with the good workmanship that we expect from the Czech manufacturer.
This is a powerful and accurate compressed air rifle with many good features and features, without too much fuss!
| | |
| --- | --- |
| Power source: | Pre compressed pneumatic (PCP) |
| Caliber: | 5.5mm (.22) | 6.35mm (.25) |
| Muzzle energy: | 32 | 48 joule |
| Fill pressure: | 300 bar |
| Air capacity: | |
| Regulator: | Yes |
| Operating system: | Sidelever |
| Magazine: | 16 | 14 shots |
| Max. projectile length: | 9.4mm |
| Optic mounting: | 22mm Picatinny/Weaver |
| Weight: | 2300 gram |
| Length: | 530-775mm |
| Barrel length: | 280mm |
| Muzzle: | 1/2UNF |
| Accessories: | Magazine, fill probe, fill kit |