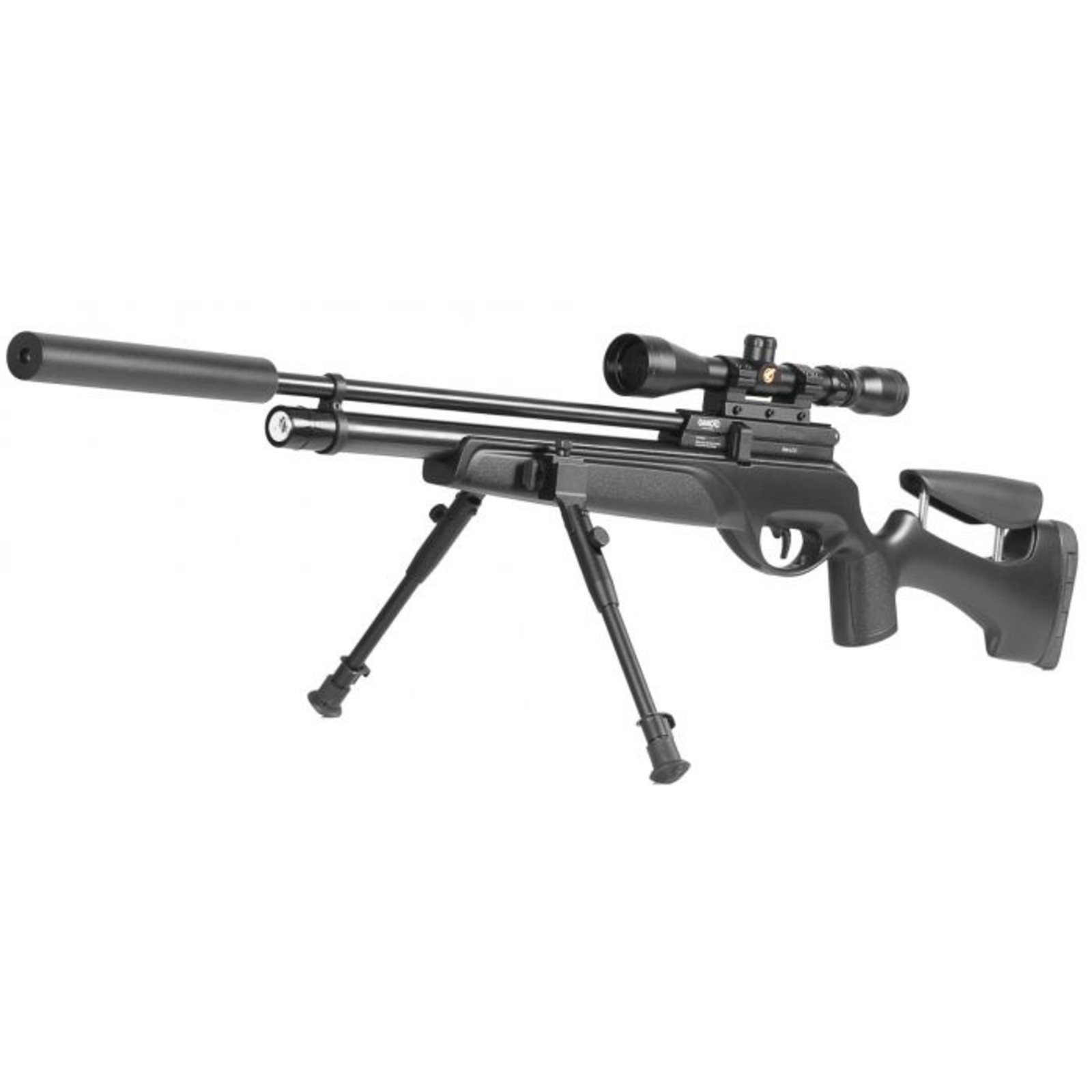 Specifications Gamo HPA Tactical PCP Rifle
Gamo's last generation PCP provides a smooth, powerful and accurate shooting due to its sophisticated compression system, which supplies a constant air feed that efficiently boosts pellets of all caliber.
Thank to the included moderator, the noise is reduced significantly.
The fixed, pre-compressed air reservoir is integrated into the rifle, and at the end of the reservoir there's a gauge showing the level of air remaining.
This reservoir can be filled with the included handpump.
Note: the pump is equipped with a foster quick connect. This needs to be removed in order to install the Gamo fill probe.
We do, however, recommend using a foster-male adapter to quickly switch to other probes or to storage the probe in a safe pocket.
The barrel is an engineering feat, built using a cold-forged hammering process. This allows the rifle to deliver shots with admirable precision.
The HPA Tactical features a black, ambidextrous, synthetic stock with an adjustable cheek piece, making it highly ergonomic and light weight.
Caliber 5,5mm mm (.22cal)
Energy 40 Joule
Velocity 291 m/s 954fps
Comes with 3-9x40 scope and sound muffler
Max fill presure 230 bar 3335psi
Adjustable cheek piece
Classic bolt system with 10 shot mag
Adjustable Custom Action Trigger
All weather synthetic stock
Ambidextrous synthetic stock
Adjustable trigger
11mm dovetail mounting rail
Weight 3,8 kg (8,36 lb)
Length 102 cm without silencer
Manual safety.
Before we can ship an air rifle or air pistol , we will need a valid copy of your id as proof that you are 18 years or older .You can email this copy to [email protected] . Always pay attention to the existing regulations of gun laws in your country.