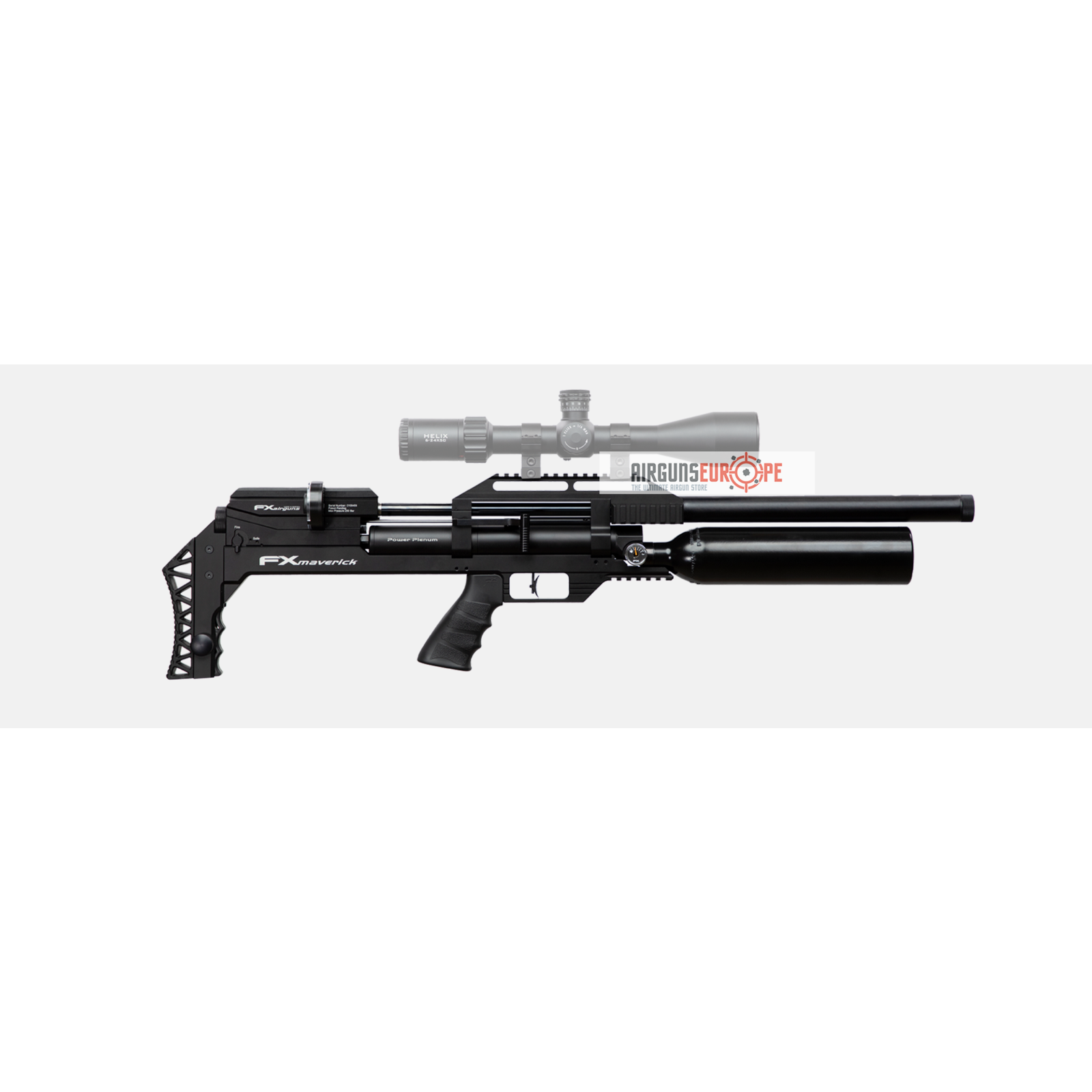 | | |
| --- | --- |
| Availability: | Out of stock |
The FX Maverick is a modular PCP airgun designed for shooting heavy pellets and slugs.
This blend between the FX Impact and Wildcat offers the shooter a wide range of options.

With an extra large 89cc Power Plenum and double AMP-regulators, this rifle has been equipped with FX's latests innovations.

VP edition
The VP edition has a 400cc aluminum 230 bar bottle and 600mm barrel.
This puts the weight at 3.4kg and give the rifle an affordable price.
Note that unlike the other variants, the VP edition does not come with a case.

Adjustability
Just like many FX models, is the Maverick highly adjustable.
The double AMP-regulators are adjustable and are designed to work in harmony with the large 89cc Power Plenum.
Sporting the same hammerspring assembly as the FX Wildcat MK3, the hammer is fine-tunable with macro and micro adjustments.
Smooth Twist X (STX) barrel & liner system
The Maverick uses FX's STX barrel with interchangable liner system.
By default, the Maverick is equipped with the Superior STX Standard liner. This liner is suited for pellets, Hybrid Slugs and lighter slugs.
For heavier projectiles, the Superior STX Heavy is recommended.
Modularity
With standard AR-grips and plenty of 22mm picatinny rails for all accessories, the Maverick can be changed for every shooters needs.
| | |
| --- | --- |
| Power source: | Pre compressed pneumatic (PCP) |
| Caliber: | 5.5mm (.22) | 6,35mm (.25) | 7,62mm (.30) |
| Muzzle energy: | standard (max potential with power kit) 40 (90) | 60 (107) | 105 (145) joule |
| Fill pressure: | 230 bar |
| Air capacity: | 400cc |
| Regulator: | Double regulated |
| Operating system: | Side-lever |
| Magazine: | 18 | 16 | 13 shots |
| Max. projectile length: | 11mm |
| Optic mounting: | 22m picatinny 20 MOA rails |
| Weight: | 3.4kg |
| Length: | 806mm |
| Barrel length: | 600mm STX barrel |
| Muzzle: | 1/2 UNF |
| Accessories: | 1 magazine, foster-connection, manual |