Gamo has always been well known for their breakbarrels. And for the beginners, they have always carried a very good price for their quality.
Within the PCP market, Gamo has always kept busy with the Coyote and variants based on it.

But now Gamo has announched their brand new PCP: The Gamo Arrow!
During Vincent's visit to the IWA 2022, Gamo has anounched their new Gamo Arrow.
And of course, this has caused a lot of questions!
In this article, we'll try to address most of them and take a look a the Arrow's features.
What is the Gamo Arrow?
To answer the most immediate question, the Gamo Arrow does not shoot arrows.
With the Gamo Arrow, Gamo enters the "Budget-PCP" market.
With a price point below €300.-, this Spanish company blurs the lines between PCP and break-barrel airguns .
Of course you still need a fill source and ammunition, which add to the total costs.
But thanks to the compact 128cc air capacity at a max. pressure of 232 bar, this rifle is rather easy to fill with a handpump.
This make the Gamo Arrow an interesting option for beginning shooters who do not want to invest in a bottle or compressor.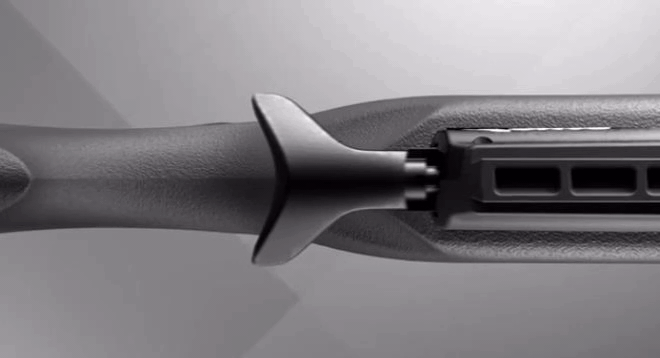 Loading mechanism & Magazine
The Gamo Arrow is equipped with a "Straight-Pull" bolt.
This allows you to quickly load the rifle in one straight motion. Allowing for a quick follow-up shot.
Working in conjunction with the loading mechanism, is the 10-shot magazine.
It's a nice feature that the Arrow uses the 10x Gen1 magazines.
These are the same magazines used in the Gamo Quiker, Replay Magnum Gen1, and other breakbarrels using the 10x Gen1 loading mechanism.
Compared to the other PCP rifles from Gamo (such as the Gamo Coyote, HPA PCP Tactical, BSA Buccaneer, etc.), these magazines are a lot cheaper and just as reliable.
Whisper Fusion shroud & moderator
Also found on springers like the Gamo Roadster, is the Whisper Fusion barrel-shroud.
This shroud is made as one piece with the housing of the rifle and contains a very effective moderator, which makes this rifle very backyard friendly.
Optics
On top of this shroud, are the iron(plastic)-sights.
These sight's bright fiber inserts allow you to use the rifle in low-light conditions.
Of course, there's also an 11mm dovetail allowing you to mount any scope of your choice.
Power & Caliber
The Gamo Arrow with its 24 joule in both calibers (4,5mm & 5,5mm) might not be the most powerful PCP.
But don't forget that this is a very common power level among springers and is perfectly suited for backyard plinking and even pest control.
Gamo claims approx. 90 shots per fill, which is likely a slight overestimation.
The rifles that we tested till offered a 60-70 shots from 232 to 100bar. Which is still a very impressive number!
Conclusion
The Gamo Arrow is, in our opinion, not just any cheap airgun but offers quite some interestion features.
The moderate, yet  plenty of power combined with a large amount of shots p/fill and easy handpumping makes this a great option for any looking to enter the PCP world!